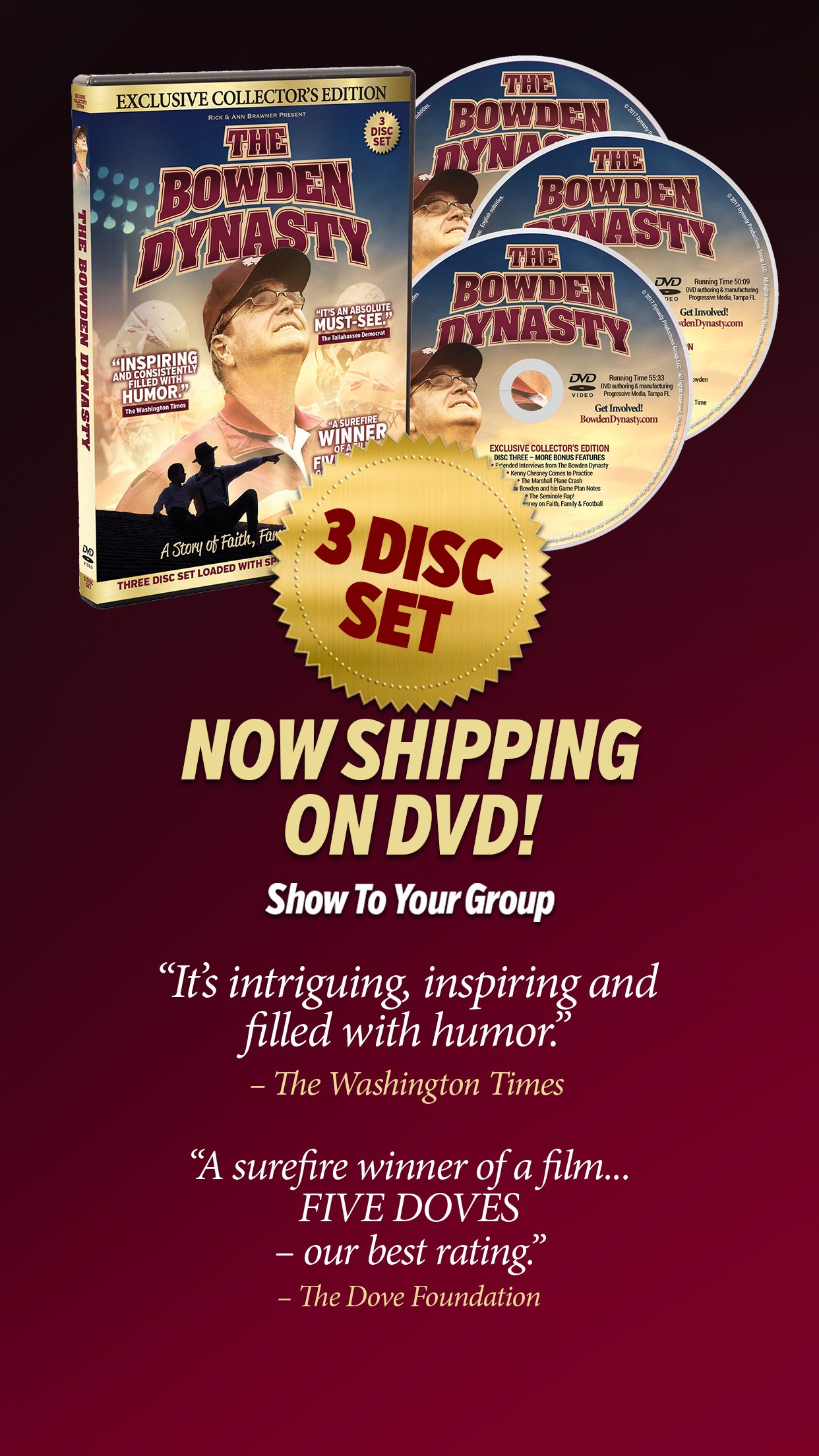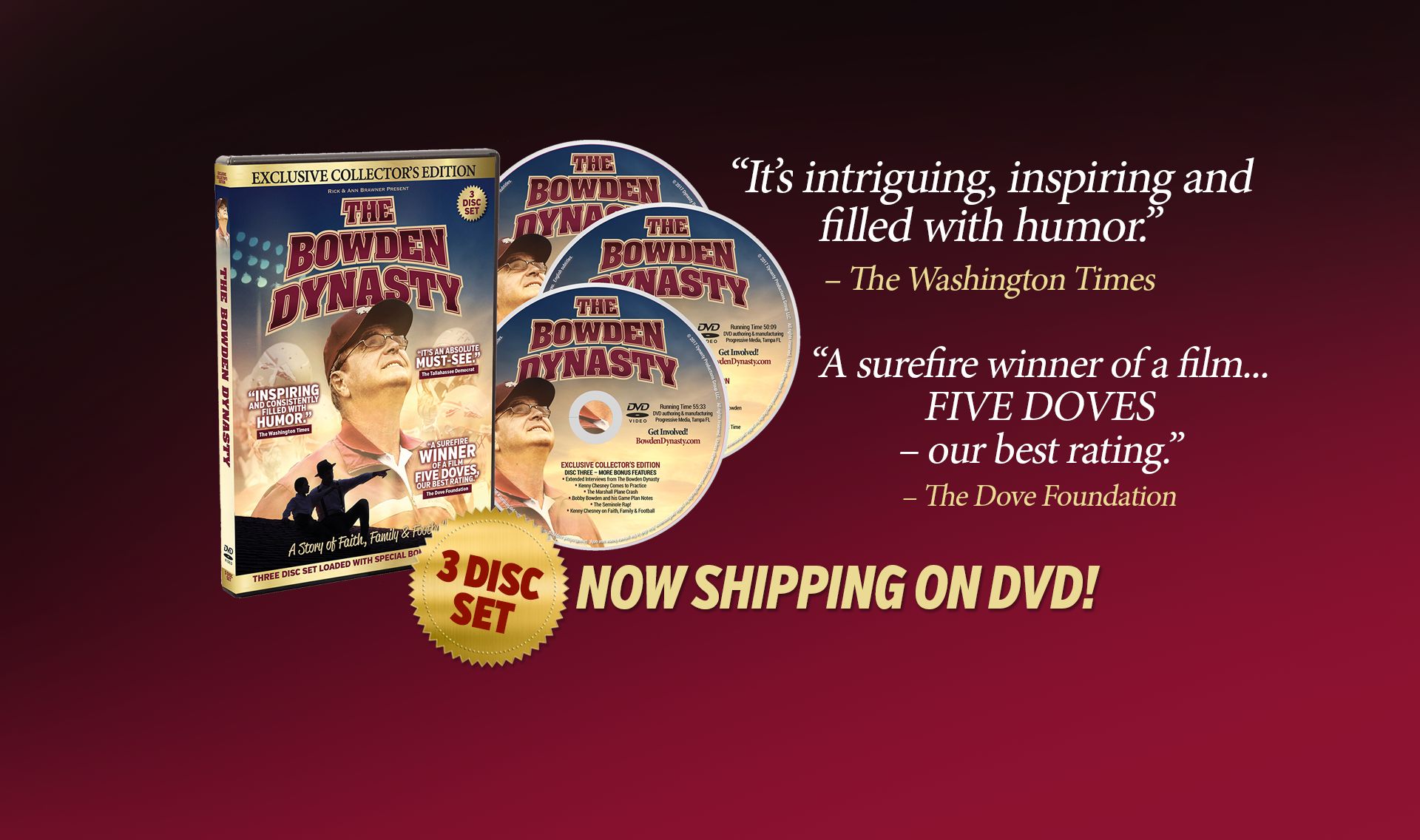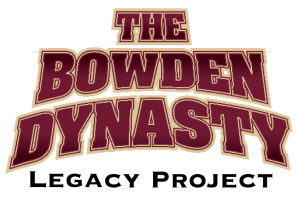 Dear Friend,
I know we all agree that Bobby Bowden was a once-in-a-lifetime legendary Coach. His turnaround of the football program at Florida State University is one of the most amazing stories in the history of sports. In 2015 four FSU grads from the 1980's got together and decided it was high time a feature film was made to tell the story of Bobby, his staff, and his teams at FSU. Wanting to make sure the film would tell the story exactly as Bobby would have wanted and to maintain control of the film's rights, these enterprising Seminoles funded the production themselves and engaged the help of an award-winning film team.
With nearly 60 amazing interviews THE BOWDEN DYNASTY feature film exceeded all expectations and the movie premiered to critical acclaim in 337 theaters in a national one-night-only release in 2017.
Now, beginning this Fall THE BOWDEN DYNASTY is set to receive the national exposure and recognition for which it was destined – on ESPN Networks as a Two-Hour Special!
The following media milestones lie ahead for the film:
• Ten national broadcasts in a 12-month period, beginning in Sept. 2019
• The new ACC Network National Broadcast Premiere
• ESPNU National Broadcast Premiere
• Minimum of eight additional runs on the ACC Network or ESPNU
• Netflix or Amazon Subscriber Video on Demand Service Premiere
• iTunes Download and Streaming Premiere
Coach Bowden will support the premieres with a national promotional campaign on the flagship ESPN. But we need your help to make this happen...
ESPN rarely licenses films made outside of its control. However, due to THE BOWDEN DYNASTY's high quality, and the timing of their new ACC network premiering in August, they have agreed to air the film a minimum of ten times in one year, with an option for additional years.
In lieu of a license fee they have offered commercial time for us to use for each airing. This unique offer has given friends and admirers of Coach Bowden a rare opportunity. When we asked Coach Bowden what his wish was for the future of his film he said he'd like to see it placed "in as many schools and churches as possible."
These two endeavors are providing an amazing opportunity for a few special people:
To help fund the rights to license this film on TV and elsewhere, and to create the infrastructure to support Bobby's legacy dream, we are asking you to become a founding member of the Bowden Dynasty Legacy Project. A limited number of friends, businesses and alumni will be able to make a tax-deductible contribution to the Project. In turn, they'll receive wonderful gifts and varying levels of on-air recognition during the ten ESPN Network broadcasts.
Imagine sharing your favorite FSU or family photograph, or your company logo, along with a personal note to Coach Bowden, with a national audience at least ten times in one year… and then to know that your participation is directly helping Coach achieve his dream for the film.
Speaking on behalf of the thousands of players whose lives have been immeasurably touched by coach Bowden, FSU All-American and Pro Football Hall of Famer Derrick Brooks says: "It is a rare opportunity, indeed, to be able to say thank you to a living legend in such a tangible and visible way. These tributes will live forever within the fabric of this epic documentary."
Please take a moment to look over the following Sponsorship Document. We'd love to have you as a charter member of the Legacy Project team that makes Bobby's dream come true. Soon thousands of schools and churches throughout the country will be sharing the heartwarming story of THE BOWDEN DYNASTY, and millions more will be inspired by Bobby's story of Faith, Family & Football!
Thanks for joining with us.
Wayne Hogan
Project Chair
Former FSU Sports Information Director and Athletic Director
Click here to download the DYNASTY LEGACY PROJECT SPONSORSHIP DOCUMENT!
CONTACT: Hogan@BowdenDynasty.com
DVDs NOW SHIPPING. SAVE on Combo Packs Below!